Mercedes-Benz Parfums is moving forward with a new fragrance … « The Move »
Salon Marta – Hotel ***** Barrière Le Majestic Cannes
The latest Mercedes-Benz « The Move » … unable to resist !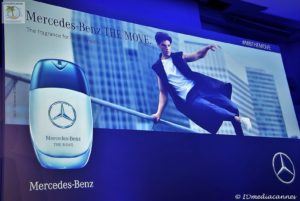 Chic atmosphere, glamor and … perfumed, Monday, September 1st in the Salon Marta of the Hotel ***** Barrière Le Majestic Cannes
From the first day of TFWA, the long awaited evening of the launch of the new Mercedes-Benz star perfume has kicked off with the unflinching presentation of Rémy Deslandes, CEO  INCC Parfum Group.
 » The artist  » knows his speech on the fingertip and passion does the rest … praise of the new « The Move » dedicated to the millennial generation in perpetual motion, sliding decor and appearance of a showcase of 16 perfumes « The Move », presentation by a clip and then by its designer, perfumer Dominique Ropion of the new fragrance for men combining dynamism, power, romance, purity, simplicity, masculinity, a modern, chic fragrance leaving a trail a of sensuality … watch out ladies !
Followed, an amazing animation of a « performer » laser … bluffing !
The perfumer, the nose: Dominique Ropion …
« To invent something young supported by a classic and solid structure, a signed perfume that we recognize among others »
Having discovered perfumery by chance during a summer internship, Dominique Ropion learns perfumery at Givaudan. After a stint at Florasynth ( now Symrise ), he joined IFF in 2000. A very prolific perfumer, he has created or co-signed among other successes such as: Ysatis, Kenzo Jungle Elephant, Pure Poison, Burberry London, Yves Saint-Laurent's man, Miss Boucheron … In 2018, he publishes Aphorisms of a perfumer (collection Nez Literature)
Mercedes-Benz, the new star of the perfume world …
Mercedes-Benz, iconic brand that goes through history, defies trends and is constantly renewed. With the success of its original line, Mercedes-Benz returns this year with a brand new ultra-contemporary and sophisticated fragrance. Elegant and high-performance fragrances, like the car's fleet, are the result of real expertise from master perfumers and glassmakers, a quest for excellence found in its sleek glass bottles.
« The Move », an intense blue bottle that plays the purity and transparency, simple, organic and futuristic shape … a favorite object !
« The Move », a new aromatic perfume fern for a modern man, signed Dominique Ropion … top notes, grapefruit, cardamom, apple blossom, heart notes, marine and geranium and base notes, bean tonka and balsam fir … peps, tenderness, modernity, greedy touch and navy all at once ! « The Move », a hymn to life, the story of a young man who, in music, crosses the urban space, appropriates it … him, the world … both in movement.
The Mercedes-Benz « THE MOVE » range available in perfumery
Eau de Toilette: 60 ml and 100 ml – Deodorant stick: 75 g – Shower gel: 200 ml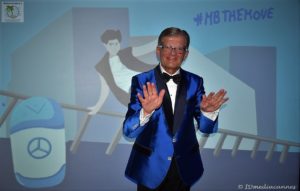 #Befree, claim his freedom
#Liveinthemoment, enjoy every moment
#Expressyourself, a scent like signature
« The Move » … the desire to follow his desires in a breath of freedom and madness !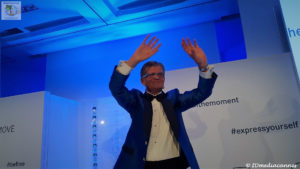 Association Tax Free World, 23-25, rue de Berri, 75008 Paris, France
***